Latest News
2010-08-20 Our chihuahuapuppies are growing and it´s soon time for chip and vacc. For more information look under Puppies.
2010-06-08 A litter of chihuahua puppies are expected to week 25. For more information look under Puppies.
2010-01-30 Our black dwarfpoodlebitch Dinkanesh Magic Memory is now mate, look at the link Puppies. The puppies are planned to week 13.
The photogallery is now updated with more photos.
2009-11-01 Our black dwarf poodle bitch Dinkanesh Magic Memory is now mate, look at the link Puppies.
The photogallery is now updated with more photos.
2009-07-28 Our female Selma, dwarfpoodle, gave birth to four puppies in the 7th of june. It´s three bitches and one male, all silver. There are one male och one female for sale. Check out For sale for more information.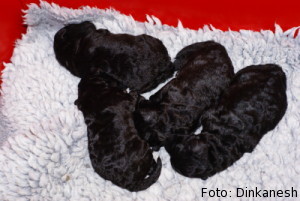 2009-07-14 Unfortunately was our chihuahuabitch not with puppies. Sadly, Mejas breeder and also one of my best friend have died. She died in the beginning of july. Many tears have been cried in this house. Kennel Newyorkies will cease all activites beceause of that.
2008-04-27 One of the poodle bitches has now been mated. However, pregnancy has not been comfirmed yet.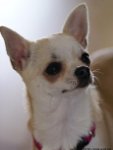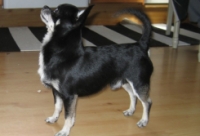 Foto: Newyorkies
"Meja" - Newyorkies Gullviva För Själen has also been mated with the lovely "Penni" - Tuhkimon Pennitönuneksia
2008-12-17 Unfortunately became Mejas confinement lengthy and the puppies didn't make it. The first one was deadborn and the other died shortly after birth. She was born on the operation table on the Veterinary clinic Strömsholm. It doesn't feel well the two female puppies did'nt make it but Meja is alright.
I wish you all a Merry Christmas and A Happy New Year
2008-11-03 Mail from owner Marie Dinkanesh Black Loira "Sally" has passed the predisposition test in wild animal tracks (I don't know if it the right word for it - wild animal track). Congratulations to you both.
2008-10-27 Our shorthaired chihuahua bitch were mated with the Finnish shorthaired male Tuhkimon Pennitönuneksia "Penni"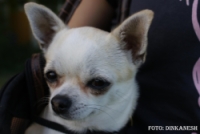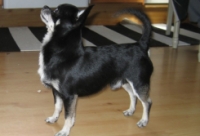 Foto: Newyorkies
2008-07-13 Out chihuahua Tuhkimon Jagueline - Jackie became World Winner 2008 at the World Show. Not bad. This weekend our Hot And Spicy Ladykiller - Rocky took his third Cert and he is now swedish champion.
2008-05-31 Shown our miniature schnauzer Dinkanesh Rihanna in Norrköping. She got forth best bitch with CK. The judgement was the following: Beautiful head, good expression, good neck- back, very well evolved body, excellent bone structure, well evolved, excellent coat, good drawn, excellent movements. I'm very pleased and Rihanna behaved very well despite the heat.
2008-05-01 Dinkanesh Argento Ricciolino - Olle with his co-owner Filippa is so good so Olle kan these days titulate LP1 (obedience test I think it is in english).
2008-04 Tuhkimon Jagueline now swedish champion shown by co-owner Annika Lindholm, kennel Newyorkies. Thank you Annika for that.
2008-03-10 Dinkanesh Rihanna BIM at Dobermannklubben's show in Sollentuna, Sweden the 8th of March.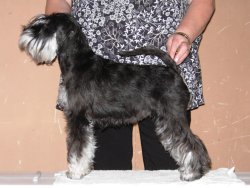 2008-02-27 The14th of February gave Dinkanesh Sweet Nika - Nike birth to four silvertoys. It's two males and two bitches. More info is coming later.
2008-02-13 The 25th of January 2008 Axa gave birth to her first litter. There are 2 males, one silver and one white och 2 bitches, both white. Everything is going well with the puppies and they are eating ang growing as they should. Axa is a very good mother.
2008-01-13 The uperside of our house is soon ready after 8 months of compact living, guess if I'm happy to move up the furnitures! Have forgotten to tell you about the great couple Filippa and Olle (Dinkanesh Argento Ricciolino) was in a competition at Stora Stockholm in obedience. With 175 points they got the second place. Winner was a bordercollie. Isn't it great, Olle are now LP1. Our silverbitch Axa will soon give birth of a silver puppy litter, the first in the kennel, I think, of two years. I'm really looking forward to this litter.
2007-11-29 The silver bitch Dinkanesh Darling Nelly Grey - Axa is has been mated with Crusea's Key Man - Siberlius, silver as well.
2007-11-24 Dinkanesh Rihanna debuted with a BIR puppy at the Mårten-show November 11:th 2007.
2007-10-09 As you can see my promise to update the page haven't been kept. But here comes a small update. The summer has been very hectical because of a big renovation of the upper floor in the house. No telephone, tv or internet for 10 weeks so the communications have not been what they used to be. The Miniature Schnauzerpuppies have moved to their new homes, except Rihanna that will stay here with us. On the 27th of July the first Chihuahualitter was borned. There were one tricolored bitch "Toya" and one sobel male "Jackson".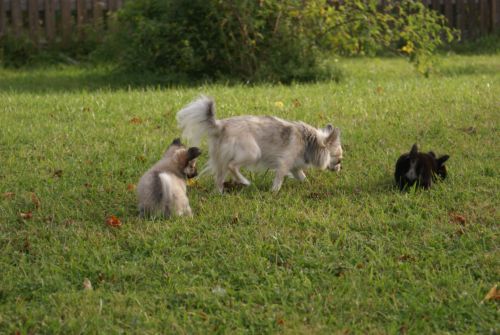 2007-07-30 The kennels first miniature schnauzer litter are now just over five weeks. Totally irresistible!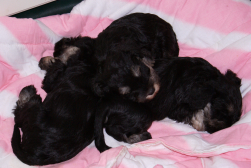 The photo gallery has also been updated.
2007-03-06 Have to be better to update my homepage and I promise to try to be better. In October we said welcome to our new member of the (dog) familj our chihuahua male Rocky- Hot And Spicy Ladykiller. He is a bluefawned four-years old gentleman. He is a lovely dog, nice and kindly. Co-owner is a friend of mine Annika Lindholm, kennel Newyorkies (www.kennelnewyorkies.se).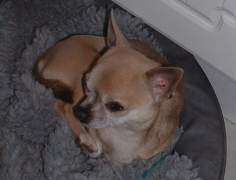 I have also had a litter of dwarfpoodles and it was three males, two brown and one black.
2006-09-05 The 5th of September Djakartas Gucci-Girl gave birth to five puppies 3 males and 2 females, all black/red.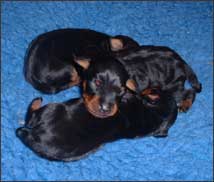 2006-08-18 Our latest familymember the chihuahua Newyorkies Gullviva För Själen "Meja".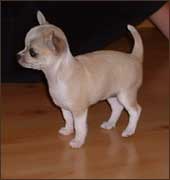 2006-08-16 A newly taken picture of Jackie.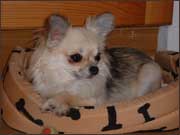 2006-08-12 Our miniature pinscher Djakartas Gucci-Girl "Gucci" was mated the 8:th of july with the black/red male SUCH Camalis Little Prince Charming "Lexus". The puppies will be born in september. To see a picture of the male go to the homepage of kennel Camalis and look under Champion.
If you are intrested you can call me +46 171-44 65 00 or the mobil +46 70-175 51 26 or send me an e-mail dinkanesh@tele2.se.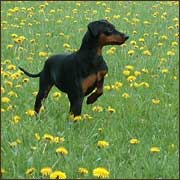 2006-07-07 Nathalie with the chihuahuabitch Tuhkimon Jaqueline "Jackie" from kennel Tuhkimon in Finland co-owner my good friend Annika Lindholm, kennel Newyorkies. The photo was taken in the 16:th of july 2005 when Jackie just arrived to Sweden.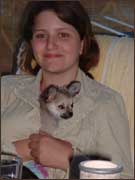 For more information about the bitch check out kennel Newyorkies homepage
2006-01-31 Doris and Magic's puppies got eight weeks last monday. Today moved Dinkanesh Sancho Panscho Man to his new family.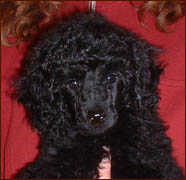 2005-12-09 Doris - Thunderwhip's Xantia, our brown dwarfpoodle bitch, had four puppies december 5:th. The puppies are three black male and one brown female. More info at "Puppies"
2005-11-17 Our dwarf schnauzer Titiyo - Djakartas All In One was shown in the rings last weekend for the first time ever with the result BOB and BIG-5.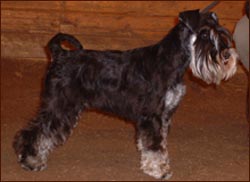 2005-10-09 Our male Super Sonik's Simply Magic got his third CC this weekend and and became swedish champion.
2005-08-23 Dinkanesh Sweet Mozart "Simon" in his first show (inoff) in Rättvik 21:th aug 2005 BOB-puppy and BIG-reserve-puppy. Congratulations Anna. (More pictures in the photogallery.)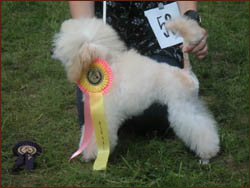 In Thursday 18:th aug our silverfemale gave birth to two puppies, one male and one female, both silver. Sire of the puppies are our silvermale Dorian Grays Belami "Joppe" prcd-normal (earlier A).
2005-08-22 Magic CC and BOB in Nyköping 2005-08-13. Judge Anna Törnlöv.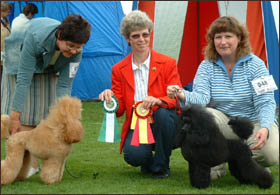 2005-07-26 Both of the stud dogs are now tested prcd-normal.
2005-07-23 Super Sonik's Simply Magic in his second show ever cert, CACIB and Best In Breed.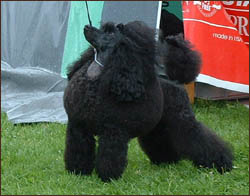 2005-04-14 Dinkanesh White Sandi gave birth to 3 males and 1 female 6th april 2005. Sire of the pups is Dorian Gray's Belami. All puppies are silver.
2005-03-31 Our lates star to the kennel is the dwarfschnauzer Titiyo (Djakartas All In One). She is black and silver and a very nice little dog.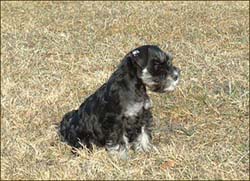 2005-03-21 Our white toy female Dinkanesh White Nika "Nike" gave birth of puppies on march the 25:th 2005, please look under the page Puppies.
2004-09-03 The puppy Nemo moved today to hos new family.
2004-07-14 Some new pictures in the Photogallery, among other pictures, one of our silverpuppy Angel. Her pedigree is now available on the page Bitches under Puh Del Bravo Grand Angel.
2004-07-09 Clara gave birh today to two male puppies, do see them on the page Puppies.
2004-05-21 Nike (Dinkanesh Sweet Nika) mated with silver male Zack (N Ch Escadas Silver Hurricane ) so now our fingers are crossed.
2004-05-20 In the beginning of may I purchased a small bitch puppy born in 12/3 2004 at kennel Puh Del Bravo. She`s a silver dwarf and we call her Angel. In the pedigree she is named Puh Del Bravo Grand Angel. She is a real missy with a lovely temperament and tremendous energy.
2004-05-12 Clara (Dinkanesh I'm Claudia) mated with Joppe (Dorian Gray's Belami).
2003-10-12 Super Sonik's Simply Magic "Magic" and Dinkanesh Magic Memory "Jenna" (a daughter of Magic) has been at their first show ever the 10:th of October -03.
The critic from the judge Cuthbert Fred was - for Magic:
Nice balanced dog, good head and reach of neck. Good shoulder. Nice spring of rib. Good hindquaters. Moves well although a little close behind.
Magic got a CK.
"Jenna" Dinkanesh Magic Memory, who is still a puppy:
Nice compact puppy, good head and reach of neck. Good dark eye, corr bite. Good front and lay of shoulder. Nice hindquaters. Moves well. Promising.
Jenna got HP and BOS-puppy.
2003-06-01 Today the black dwarf puppy Dinkanesh Black Magic Domino is going to Åland, Finland. See picture.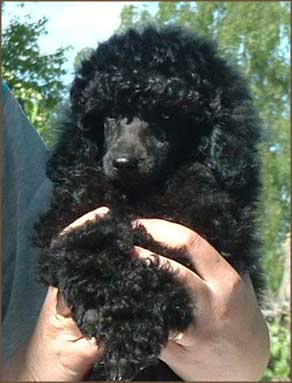 2003-05-26 Nike's puppies are now a few weeks old: Dinkanesh Micro Rain (white male), Dinkanesh Trixie Dancer (black bitch) and Dinkanesh Twistin' Patricia (black bitch). See picture.
2003-05-20 Unfortunately can I not take pictures of the puppies because I cant find my digitalcamera .
2003-05-09 New puppies are here, see Puppies.
2003-05-01 Our white toybitch Dinkanesh Sweet Nika "Nike" is now mated with the black toymale SUCH NUCH WW-02, NW - 01,- 02, SW-01, - 02 Solnes Rain Dance "Samson". The puppies will be born around week 19.